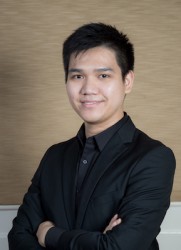 Former Program Officer, Cambodia
Daramongkol Keo formerly served as a program officer in the digital unit with The Asia Foundation in Cambodia. Within the unit, Keo coordinated the Women in TEK Network program, funded by PACT with support from USAID, to strengthen women entrepreneurs in technology through networking, mentoring, and influencing policymaking. Concurrently, Keo managed TEK4Good, a Foundation-supported program that supports the technology startup ecosystem in Cambodia by creating an enabling environment to harness the power of technology for social good. Other efforts that Keo led included Career on Camera—a collaboration with the Ministry of Education, Youth and Sport—training university student volunteers to produce short and high-quality career videos shared on social media as informational career resources for students.
Prior to joining the digital unit, Keo worked on various projects for The Asia Foundation that focus on human trafficking, women's empowerment, education and expand economic opportunity. As part of the economic opportunity program, Keo assisted in implementing two scholarship programs that enable young women to pursue their educations and have directly supported over 500 beneficiaries. In education, Keo worked successfully as part of a team piloting the Let's Read digital library for children, that currently hosts over a thousand books in 20 languages. Additionally, Keo produced videos highlighting programs across the Foundation in Cambodia.
Education: Daramongkol Keo holds a bachelor's degree in Political Science and International Relations from Zaman International University (currently known as Paragon International) in Cambodia.