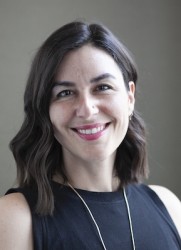 Project Director, South Asia Grants Program
Diana Fernandez is the project manager for the South Asia Grants Program.
Fernandez previously served as deputy country representative for The Asia Foundation's Myanmar office. In this capacity, she oversaw and managed a wide range of programs and projects. Fernandez has been working with The Asia Foundation in different capacities since 2007, serving as deputy country representative in Mongolia, and as head of the Program Support Unit for the Timor-Leste office as well as the coordinator for research and monitoring and evaluation for the office's Nabilan: Ending Violence Against Women program.
Initially joining the Foundation as a Junior Associate, Diana Fernandez worked for the Women's Empowerment program where she provided key program support and conducted research to find linkages between women's issues and the environment. In 2008, she became a program officer for the Washington, DC office where she supported coordination of grantees visiting Washington, DC under the Asian American Exchange program.
Fernandez also provided substantive program support to the Afghanistan office to revise the Afghanistan's Ministry of Women's Affairs communications strategy as well as drafting a large public-sector proposal to enhance the capacity of sub-national governments. Between 2009–2013, she was a program officer in the Foundation's Nepal office where she had a diverse portfolio that included: managing a DFID funded project to mobilize 50 international election observers and more than 8000 national election observers for Nepal's 2013 Constituent Assembly Elections; managing trafficking in persons projects and managing a gender-based violence research project under the Office of the Prime Minister of Nepal.
From 2004-2006, Diana Fernandez served as a Peace Corps volunteer in Mongolia, as a development coordinator in Hotont soum of Arkhangai aimag. She also served as co-director of Friends of Mongolia, a voluntary organization based in Washington, DC that among other things works to facilitate educational grants for disadvantaged youth in Mongolia.
Education: Master's degree in International Development from the University of Bath in the United Kingdom and bachelor's degree in Political Science from Bryn Mawr College in Pennsylvania.