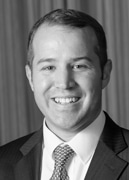 Former Country Representative, Korea
Dylan Davis left the Foundation in May, 2018.
Dylan Davis was appointed The Asia Foundation's Country Representative in Korea in 2015. Davis has extensive professional and academic experience focused on Korea and its development, and has worked in-country with government and academic institutions. With over a decade of experience, Davis has been honored with numerous awards from institutions such as the U.S. State Department, the U.S. Embassy in Seoul, and the University of California, Berkeley.
Most recently, Davis served over three years as program director for the Center for Korean Studies at the University of California, Berkeley, focusing on strengthening research and programs on Korea at UC Berkeley, expanding its Korean Studies teaching curriculum and visiting scholar program, and promoting knowledge about Korea on campus and in the region. He was also responsible for identifying grant opportunities, developing proposals, and establishing a long-term fiscal and fundraising strategy. His research interests focus on how foreign governments and private entities engage with the Korean media and public.
Prior to his position with UC Berkeley, from 2010-2011, Davis served in the Public Affairs Section of the U.S. Embassy in Seoul. In this role, he supported the embassy's engagement with prominent Korean and American media organizations as well as participated in a number of official visits by high-level delegations, including those that attended the G20 Seoul Summit in 2011. In Seoul, Davis also worked as an International Affairs Officer at the Yonsei University Health System (Severance Hospital), and served as a Fullbright Grantee to the Korean-American Educational Commission. In 2013, he was selected by the Mansfield Foundation as one of ten Korea specialists to join the first cohort of Korea Foundation-Mansfield Foundation Korea Nexus Scholars.
Education: Bachelor's degrees in Psychology and Music from Baldwin-Wallace University in Berea, Ohio, and completed coursework towards a master's degree in Public Health from Yonsei University Graduate School of Public Health in Seoul.