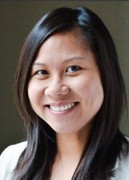 Director, Media & Strategy, Global Communications
Eelynn Sim is director of Media & Strategy for Global Communications at The Asia Foundation. In this capacity, she drives strategic communications, integrated outreach, and executive visibility to raise the organization's profile among donors, partners, and media. In addition to managing media outreach and communications planning for signature Foundation initiatives including the annual Afghan survey and Asia Foundation Development Fellows, she provides capacity training to the Foundation's field offices and program units. Sim joined The Asia Foundation in 2010 from Golin, an IPG Interpublic company, bringing more than a decade of strategic public relations experience in corporate, government, and multicultural communications. A global citizen raised in Singapore and the Philippines, Sim speaks conversational Mandarin Chinese and Filipino.
Education: Graduate diploma in International Development from The London School of Economics and Political Science; master's degree in Asian Pacific Studies from the University of San Francisco – Center for the Pacific Rim; bachelor's degree in Political Economy and Chinese from Williams College.
Phone:
(415) 982-4640
Email:
eelynn.sim@asiafoundation.org