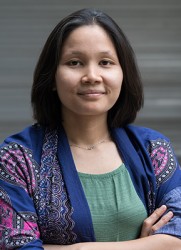 Senior Program Officer, Governance, Myanmar
Ei Ei Thwe joined The Asia Foundation's Myanmar office in December 2015. She is currently a senior program officer focusing on municipal governance, municipal financial management, and property tax reform, which includes revenue management and digitization of revenue cadasters. She works closely with subnational Development Affairs Organizations and also works with a tech partner to develop a mobile application to improve Myanmar's tax administration system.
Ei Ei has over 10 years' experience working in the social development field, focusing on sectors and skills such as disaster relief and resettlement, human rights-based approaches to local governance, grant management, and civic engagement.
Education: Bachelor's degree in Physics and master's degree in Public Administration. She was also a candidate in a master's degree in Political Management program.