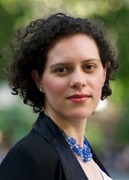 2017-2018 Luce Scholar
Democracy Resource Center
Elena Swartz will support the programming of the Democracy Resource Center (DRC), a non-partisan, not-for-profit, non-governmental organization that aims to promote democracy in Nepal through localized observation, research and objective reporting on outstanding peace process commitments that have potential to be conflict drivers, such as implementation of the new constitution, local governance, accountability, political violence and human rights. The DRC is based in Kathmandu and is opening six field offices in other parts of Nepal; the about 25 full-time staff members are all local.
From Biloxi, Mississippi to Cape Town, South Africa, Elena Swartz has experienced the power of organizations working together to help communities in crisis. Elena is driven to help people find creative local solutions to complex problems due to humanitarian conflict and natural disaster. Originally from Newton, Massachusetts, Elena has worked around the United States and the world. After finishing her master's degree in Public Administration degree at the University of Washington's Evans School of Public Policy and Governance, she plans to work for a public sector agency building partnerships within post-crisis communities. She is particularly interested in the role that arts and culture play in protecting human dignity during crisis. As a two-term AmeriCorps National Civilian Community Corps Member, Elena helped communities recover from Hurricane Katrina and Superstorm Sandy, in addition to community economic development projects. This experience inspired her to work with communities in crisis and to study emergency management and resilience strategies.
She received a bachelor's degree with honors in Growth and Structure of Cities from Bryn Mawr College in 2012. As an undergraduate she was named a Mellon Mays Undergraduate Fellow and received funding to conduct a two-year independent research project on the socioeconomic role of heritage sites in South Africa. Elena's lifelong interest in heritage and the arts led her to study at the Headlong Performance Institute in 2013 where she created original contemporary performance art. Elena then helped build the administrative and financial capacities of small arts companies and programs in Philadelphia by improving their professional networks and organizational systems. Her work in government, non-profits, and private sector entities increased her interest in management strategies. She entered the Evans School to focus on monitoring and evaluation and management of international humanitarian work. In the summer of 2016 she interned with the United Nations Office of the High Commissioner for Human Rights in Geneva, Switzerland where she helped introduce system improvements to the Human Rights Council and researched human rights field operations. As a Luce Scholar, Elena hopes to gain field-level perspectives on Asian countries' experiences and apply her leadership skills and creative talents.