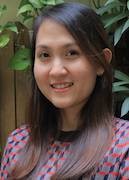 Former Program Officer, Cambodia
Elita Ouk joined The Asia Foundation in 2016 to work with the Let's Read! initiative in Cambodia. Let's Read! is a regional initiative to expand the availability and accessibility of children books in the local language. Since then, Elita has provided support to programs at The Asia Foundation, including organizing the YSEALI STEM Education Regional workshop in Phnom Penh in 2018. Prior to joining The Asia Foundation, Elita worked in digital media at an advertising agency and she also worked as a freelance reporter for the Phnom Penh Post during her time in college.
Education: Elita was an East-West Center Graduate Degree Fellow. She graduated with a master's degree in Public Administration from the University of Hawaii at Manoa in 2016. She also holds a bachelor's degree in Media Management from the Royal University of Phnom Penh.