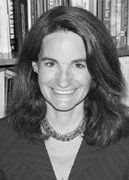 Trustee of The Asia Foundation
C.V. Starr Senior Fellow and Director for Asia Studies, Council on Foreign Relations
Elizabeth Economy joined The Asia Foundation's Board of Trustees in 2014. Economy is the C.V. Starr senior fellow and director for Asia Studies at the Council on Foreign Relations. She has authored or edited four books on Chinese domestic and foreign policy, and has published articles in foreign policy and scholarly journals including Foreign Affairs, Harvard Business Review, and Foreign Policy, and op-eds in The New York Times, the Washington Post, and The Wall Street Journal, among others. Economy is a frequent guest on nationally broadcast television and radio programs, has testified before Congress on numerous occasions, and regularly consults for U.S. government agencies and companies.
Economy serves on the board of managers of Swarthmore College. She was a member of the World Economic Forum (WEF)'s Global Agenda Council on the United States (2014-2016) and served as a member and then vice chair of WEF's Global Agenda Council on the Future of China from 2008 to 2014. In addition, she has served on the board of the China-U.S. Center for Sustainable Development and the advisory board of Network 20/20. She has taught undergraduate and graduate-level courses at Columbia University, Johns Hopkins University's Paul H. Nitze School of Advanced International Studies, and the University of Washington's Jackson School of International Studies.
Education: Elizabeth Economy received her bachelor's degree from Swarthmore College, her master's degree from Stanford University, and her doctoral degree from the University of Michigan. In 2008, she received an honorary Doctor of Laws degree from Vermont Law School.