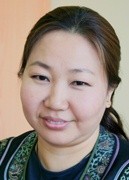 Former Project Manager, Women's Business Center and Incubator Project
Enkhjin Bayarkhuu left the Foundation in 2017.

Ms. Enkhjin Bayarkhuu was formerly The Asia Foundation's project manager for the Women's Business Center and Incubator Project funded by the Korean government. In this capacity, she worked to develop an enabling environment for women's entrepreneurship by supporting women-led small and medium businesses and addressing key constraints facing women entrepreneurs. Enkhjin previously served in managerial positions within the Governance team in the Foundation's Mongolia office, where she worked on the Mongolia Anti-Corruption Support Project, Strengthening Transparency and Governance in Mongolia Project and Fostering Civic Engagement at the Subnational Level project, respectively.
Enkhjin has over 20 years' of experience working in the public and private sectors, diplomatic missions, and international non-profit organizations. Before her employment at the Foundation, Enkhjin worked as the Executive Assistant to the British Ambassador, as a Legal Compliance officer for Ivanhoe Mines Mongolia LLC and at the Educational University and Police Academy of Mongolia as an English-language teacher.
Her professional work reflects her interests in gender, empowerment of women, event management, and intercultural communications, while her volunteer role as a board member of the local NGO Children's International Summer Village reflects her passion for community development.
Education: Enkhjin Bayarkhuu received a master's degree in International Project Management from France Business School, a bachelor's degree in Law from the Police Academy of Mongolia and a master's degree in Linguistics and a English Language Translator diploma from the State Pedagogical University of Mongolia.