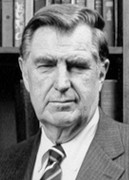 President of The Asia Foundation, 1964-1989(in memoriam)
Dr. F. Haydn Williams was President Emeritus of The Asia Foundation from 1989 until his death in 2016, having served 25 years as the President of the Foundation from 1964 to 1989—the longest tenure of any Foundation President. Prior to joining the Foundation, he held faculty and administrative appointments–as Associate Professor and Associate Dean at the Fletcher School of Law and Diplomacy, followed by a stint as Professor and Associate Dean at the University of Washington.
Williams' national public service included assignments as lecturer at the National War College and Naval War College; Deputy Assistant Secretary of Defense for National Security Council Affairs in the Eisenhower administration; Deputy Assistant Secretary for International Security Affairs in the Kennedy administration; and President Nixon's Personal Representative for the Micronesian Status Negotiations, with the rank of Ambassador.
In 1994, Williams was appointed by President Clinton to the American Battle Monuments Commission and was named Chairman of the Commission's World War II Memorial Committee. He led the search for the site, conducted an open design competition and won final approval of the design for the Memorial on the National Mall. He was the Founding Chair of the Friends of the National World War II Memorial, Inc., through which he continued to raise funds for the upkeep of the Memorial.