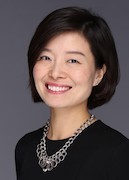 Former Program Officer, China
Fang Hui left the Foundation in 2019.
Fang Hui formerly managed China's Global Engagement and Charitable Sector Strengthening programs in the Foundation's China office, including projects that promote understanding of Chinese development cooperation, support sustainable practices by Chinese businesses overseas, and build the capacity of Chinese NGOs to respond to long-term development needs and immediate humanitarian crises in Asia.
Fang Hui joined The Asia Foundation in May 2018. Before that, she worked at Save the Children Beijing office on corporate partnerships and fundraising. Previously, she was the executive director of HandsOn Shanghai (HOS), a grassroots NGO that promotes volunteerism in Shanghai. She remains the chairperson of the HOS board of trustees.
Fang Hui has extensive volunteer and working experience in the NGO sector. She spent a year volunteering in Yunnan province China and Zambia in Africa in 2003. She has since worked and volunteered in a variety of grassroots NGOs and international NGOs in China. Fang Hui started her career in the private sector at Citibank Singapore and Tellabs in the US.
Education: Fang Hui has a bachelor's degree in Computer Engineering from Nanyang Technological University in Singapore and a graduate diploma in Social Work from the National University of Singapore. She is currently completing a master's degree in Global Public Policy (expected completion in August 2018) at the University of Southern California and the University of Hong Kong.