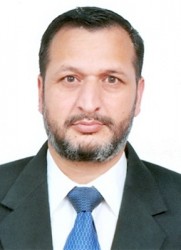 Director, Programs, Pakistan
Farid Alam is director of Programs in The Asia Foundation's Pakistan office. He has 20 years' experience in designing and managing multi-sectoral programs. Farid has hands-on experience in strategic planning, civil society capacity-building, networking with public and private sector partners, results-based planning, monitoring and evaluation, and fund management. Farid has also worked with multicultural teams in national and international organizations, including World Vision, Handicap International, ActionAid, Concern Worldwide, and Save the Children.
In the past, Farid headed integrated programs for World Vision, ActionAid, and Handicap International. At Save the Children Pakistan, Farid developed the position paper "Partnership with national CSOs," as well as a partnership development framework. He also worked independently on various assignments with public sector organizations such as Strategic Planning for Baluchistan Boy Scouts Association.
Farid has expertise in politics, public sector, and civil society dynamics, and is well-regarded in the public and NGO sectors in Pakistan. He authored the paper "Creating a Fair World Order: Human Development Approach to Poverty Reduction in Khyber-Pakhtunkhwa (KPK) formerly known as North West Frontier Province (NWFP)" in 2004. This paper was nominated as paper of the month by Civitatis International.
Education: Farid Alam has a master's degree in Agriculture with a specialization in Agronomy from KPK Agricultural University Peshawar, Pakistan. He also holds a master's degree in Social Development Planning and Management from the University of Wales. He was a NUFFIC fellow for Project Cycle Management at MDF Training and Consultancy in the Netherlands.