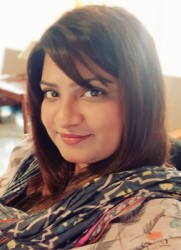 Unit Coordinator, Women's Empowerment, Pakistan
Project Lead, Strengthening Local Government and Community Networks to Reduce Violence Against Vulnerable Groups, Pakistan
Farva Rashid Minhas works as unit coordinator for Women's Empowerment, and as team lead for Strengthening Local Government and Community Networks to Reduce Violence against Vulnerable Groups at The Asia Foundation in Pakistan. She has been working with the the Foundation's Pakistan office since 2013. Prior to her current position, Farva worked on various projects with the focus of good governance (Citizens' Voice Project), rule of law (Access to Justice and Legal Aid Network for Victims of Gender-Based Violence), human rights and other Foundation initiatives.
She has worked strategically to strengthen the institutional capacity of her civil society partners and government organizations alike. Her work experience in the humanitarian and social development sector totals more than ten years. She has worked on projects funded by the International Federation of Red Cross and Red Crescent Societies, USAID, U.S. Department of State with different organizations.
Education: Farva Rashid Minhas holds a master's degree in Gender Studies (Media and Globalization) from Fatima Jinnah Women University Rawalpindi.