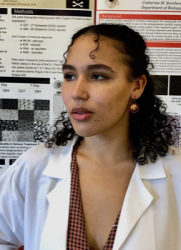 2021-2022 Luce Scholar
Fiona Carter-Tod is pursuing a career in immunological research centered around social justice and the elimination of health disparities affecting disproportionately vulnerable and underserved groups. She entered the University of Richmond as a Richmond Scholar, the University's most prestigious academic honor given to 25 incoming students each year, and will graduate with a dual degree in Biology and Leadership Studies in 2021. At UR, she conducted research on the inflammatory effects of biomass smoke, produced by the burning of natural materials for heat, light, and cooking predominantly in developing nations, and investigated the potential of yew tree bark as a natural combative supplement against biomass-induced inflammation. Having presented her findings at the 2020 Annual Biomedical Conference for Minority Students (ABRCMS), she is completing the research as her senior independent study for the Jepson Science Leadership Scholars Program.
Outside of the lab, she studies leadership, ethics, and philosophy, and actively engages with her community. As a member of Alpha Kappa Alpha, the first historically black sorority, and the former president of the National Pan-Hellenic Council chapter at UR, she has volunteered with organizations such as Future Young Leaders, The Virginia Breast Cancer Foundation, and the Richmond Peace Education Center at Martin Luther King Jr. Middle School. Her initial interest in global health came from summer mission work in Guatemala City, Guatemala and Cape Town, South Africa during high school. This interest grew when she researched indigenous and eastern views on health while studying abroad in New Zealand. Fiona plans to pursue a doctoral degree in immunology and continue fostering her understanding of global and domestic health disparities. Beyond academics, Fiona enjoys painting, hiking, playing basketball, writing poetry, novice skateboarding, and cooking.