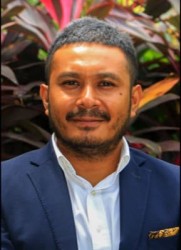 2023 Asia Foundation Development Fellow
Flávio Simões works for the Ministry of Foreign Affairs in Timor-Leste under an Asian Development Bank Technical Assistance program to support Timor-Leste's integration into ASEAN, where he works to ensure the coordinated alignment of Timor-Leste's rules, laws and regulations with those of the ASEAN Economic Community Pillar. Simões previously served in various portfolios under the UN Mission in Timor-Leste, as migration governance advisor to the IOM, as security sector reform advisor, and as political facilitator for Timor-Leste's review on the UN-SDGs implementation. He also served consecutively under Timor-Leste's Prime Ministers Mari Alkatiri and Rui Maria de Araújo, co-founding Timor-Leste's National Crises Management Centre and reactivating the Anti-Human Trafficking Task Force.
Simões is a Chevening fellow who holds a bachelor's degree in Politics and International Relations and a master's degree in Terrorism, Security and Policing.