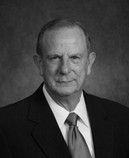 Former Member, Board of Trustees
Former President and CEO, Winrock International
Franklin Tugwell left the Board of Trustees in 2014.
Franklin Tugwell joined The Asia Foundation's Board of Trustees in 2010. Dr. Tugwell served as the President and CEO of Winrock International from 1999-2013. Previously, Dr. Tugwell was the executive director of the Heinz Endowments of Pittsburgh, the founder and president of the Environment Enterprises Assistance Fund, and as a senior consultant for International Projects and Programs at PG&E Enterprises. He served as a deputy assistant administrator at USAID (1980-1981) and as a senior analyst for the energy program at the U.S. Office of Technology Assessment (1979-1980).
Dr. Tugwell was also a professor at Pomona College and an adjunct distinguished professor at the Heinz School of Carnegie Mellon University. Additionally, he serves on the Advisory Board and International Committee of the American Council on Renewable Energy and on the Joint Board of Councilors of the China-U.S. Center for Sustainable Development. He also serves on the Board of Eucord (European Cooperative for International Development). Dr. Tugwell received a PhD in political science from Columbia University.