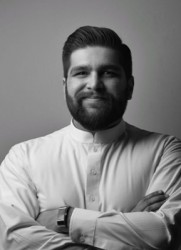 Program Officer, Pakistan
Hamza works as program officer for the Alternative Dispute Resolution Project in Pakistan. He joined the Foundation's Pakistan office in April 2019. In the past, Hamza has worked for AKA Consortium as COO at IBM as Project Management Officer & team lead and as an RA at the University of Leicester. His core competencies include project management, stakeholder management, planning, reporting, coordination, and implementation.
Education: Hamza has a degree in Communications, Society & Media from the University of Leicester in the UK.