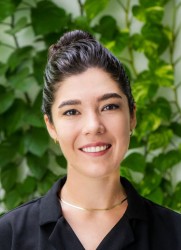 Regional Program Manager, Go Digital ASEAN
Hannah Najar is regional program manager for Go Digital ASEAN, based in The Asia Foundation's Malaysia office. She supports the strategic vision and oversees the implementation of Go Digital ASEAN, a regional initiative designed to equip up to 200,000 micro and small enterprises and underemployed youth across all 10 ASEAN member states.
Hannah joined the Foundation in 2019. She previously served as operations director for Ponheary Ly Foundation (PLF), an organization promoting access to quality education for children and youth across Northern Cambodia. Together with her Cambodian colleagues, Hannah built a mentorship program and formalized a teacher training program, and led the shift from program management by foreign staff members to local staff members and teachers.
Hannah serves as a board member for the Khmer Vulnerability Aid Organization (KVAO), a non-governmental organization easing the integration into society of people who were admitted to the United States as refugees and are deported to Cambodia.
Education: Bachelor's degree in Political Science and Economics from Union College (NY)