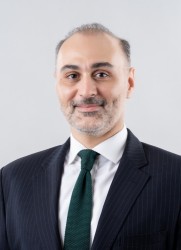 Acting Country Representative, Pakistan
Haris Qayyum Khan is director for Strategy and Operations in The Asia Foundation's Pakistan office. Haris joined the Foundation in 2015. He is a development economist with a focus on regional cooperation and institutional growth. He has held various positions supporting development and multilateral organizations in establishing and strengthening transnational frameworks and multilateral forums through policy dialogue, regional cooperation, and cross-border research. He has comprehensive expertise in developing and implementing projects as well as institutional strategic positioning, including business development.
He brings a diverse skill set developed through his strategic-level experience of the banking sector in the UK and development projects in Central Asia. He has cross-sectoral knowledge of international development trends and brings an in-depth understanding of the sociopolitical interplay of the region. A strong academic background complements his professional achievements.
Education: Haris has a bachelor's degree in Engineering and Business Studies from the University of Warwick, and a master's degree in Management, Economics and International Relations from the University of St Andrews, United Kingdom. Haris is also a CFA-certified Investment Manager.