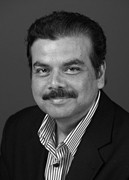 Former Country Representative, Bangladesh
Hasan Mazumdar left the Foundation in July 2017.
Hasan Mazumdar joined the Asia Foundation as Bangladesh country representative in December 2009. The Foundation's Bangladesh office supports programs on political and economic governance, rule of law, human rights, women's empowerment, economic growth, climate change/environment, and regional programs. Prior to joining the Foundation, he held the position of country director of CARE Pakistan where he was responsible for ensuring proper utilization of an annual portfolio of around US $20 million on various development interventions such as economic growth, education, good governance, SME/enterprise development, promoting Corporate Social Responsibility (CSR), workforce development, and facilitating private and public partnerships with a special focus on women's empowerment.
Prior to his assignment in Pakistan, Hasan was CARE's deputy country director in Bangladesh, where he assisted in leading and administering a $40 million 25 project program with 800 employees and was responsible for the management of program portfolio finance, administration, and human resources.
From 1996 to 2000, Hasan worked for Cairn Energy, PLC in Dhaka as head of finance and administration where he was responsible for coordinating financial and administrative functions and managing host country relationships. From 1994 to 1996, he worked as senior manager with KPMG, Dhaka where he provided audit and business development services to some of the largest multinationals and leading NGOs in the country.
From 1991 to 1994, Hasan worked as senior analyst with Deloitte & Touche in Cleveland, Ohio with their Emerging Markets Group where he was in charge of accounts, audit, and taxation. He began his career in 1987 as Manager with Frauenthal & Associates in Ohio, providing business management support to small and medium enterprises (SMEs).
Mr. Mazumdar's more than 28 years of professional experience includes working for both development and corporate (for-profit) organizations in Bangladesh, the USA, and Pakistan. He is fluent in Bangla and English and can speak in both Hindi and Urdu. Mr. Mazumdar is a Certified Public Accountant (Member of the American Institute of CPAs) and holds a Bachelor of Commerce from Dhaka University.

Education: Bachelor's degree in Commerce from Dhaka University