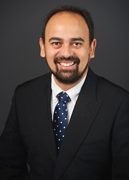 Former Country Representative, Malaysia
Herizal Hazri left the Foundation in 2020.
Herizal Hazri served as the country representative in The Asia Foundation's Malaysia office from 2014 to 2020. He was responsible for program design and coordination for the Foundation's programs in Malaysia.
Hazri was formerly the deputy country representative in The Asia Foundation's Malaysia office. Prior to joining the Foundation, he served as a consultant with several think tanks and public policy consulting firms internationally as well as in Malaysia. Hazri is known for his civil society development efforts in Malaysia, particularly in the area of human rights and democracy. He has worked in twelve Asian countries to promote democratization efforts, namely in Indonesia, East Timor (now Timor-Leste), Thailand, Philippines, Cambodia, Myanmar, Pakistan, Afghanistan, Sri Lanka, Bangladesh, Taiwan, and his home country, Malaysia.
In 2004, Hazri managed the only International Election Observation Mission for the Afghanistan Presidential Election and deployed 45 long-term and short-term observers to Pakistan, Afghanistan, and Iran. This marked the first time an election observation team was allowed to observe an electoral process in Iran. Herizal Hazri has published three books on election observation and electoral politics: Report of the Indonesian Legislative and Presidential Election 2003-2004, Afghanistan Presidential Election 2004, and Politics of the Straits: An Observation of the Taiwan Legislative Election. He served as a member of the International Contact Group (ICG) for the peace process in Mindanao where he assisted the Malaysian Government's facilitator to the peace process, the Mindanao Islamic Liberation Front (MILF) peace panel, as well as the Government of Philippines peace panel from 2009-2014. He has been widely quoted on issues such as countering violent extremism, peace processes, and development economics, as well as contemporary ASEAN issues. He has received fellowships on economics, politics, and democracy from Stanford University and the International Monetary Fund. In 2007, Hazri was a recipient of the prestigious Chevening Scholarship to read International Political Economy at the University of London.
Education: Bachelor's degree in Economic Development, with honours, from the University of Malaya, master's degree in Global Politics from the University of London