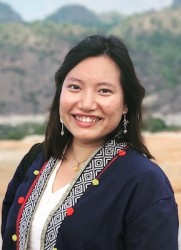 Senior Program Officer, Governance, Myanmar
Hillary Yu Zin Htoon is a senior program officer at The Asia Foundation in Myanmar. Since joining the Foundation in May 2018, Hillary has worked closely with city municipalities and local partners to strengthen civic engagement across townships. Currently working with the Social Accountability Team under the Governance program, Hillary is enhancing the skills of civil society organizations, media and public account committees to increase accountability at subnational level. This includes the oversight and management of partners' activities and strengthening their institutional and organizational capacities.
Hillary has previously worked for INGOs and NGOs across Myanmar, Thailand and the US. She has also worked with the Union Ministry of Social Welfare, Relief and Resettlement, directly supporting the Union Minister and the Committee for Implementation of Recommendations on Rakhine State.
Education: Hillary holds a bachelor's degree in Social Work from St. Olaf College in the US and has also obtained a bachelor's degree in Business Management from the National Management Degree College in Myanmar.