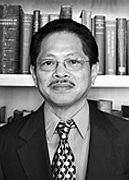 Senior Director, Public Sector Development Services
Jaime Chua is The Asia Foundation's senior director for Public Sector Development Services. His prior positions at the Foundation include: co-chair of the Evaluation Task Force, and associate director for Programs where he led the proposal design teams and supported field operations respectively. His work history includes ten years at the Agricultural Cooperative Development International, an economic development firm where he served as regional representative for Asia, and country director for the Philippines, Mongolia, Cambodia, and Indonesia respectively. In these capacities, he managed country programs and international consulting in agribusiness, enterprise development, financial services, and food security. He was a senior economist for local settlement program at UNHCR. He also teaches graduate courses on Political Economies of East Asia, and Development Economics at The Center for Asia Pacific Studies, University of San Francisco.
Education: Doctoral degree in Management major in Economics, Case Western Reserve University; Visiting Scholar, Doctor of Economic Development program, New Mexico State University; Graduate Certificate in Policy and Program Evaluation from Claremont Graduate University; master's degree in Economic Research from the University of Asia and the Pacific.
Phone:
415-982-4640
Email:
jaime.chua@asiafoundation.org