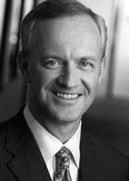 Trustee of The Asia Foundation
Former Member of the President's Leadership Council of The Asia Foundation
Executive Vice President, Corporate Initiatives, Charles Schwab & Co., Inc.
James D. McCool currently leads Schwab's Corporate Initiatives group, which focuses on key strategic initiatives that advance the company's long term growth strategies. Jim serves on Schwab's Executive Council.
Previously, Jim led Schwab's Client Solutions Enterprise. Key business units under his leadership were Corporate Brokerage Services, Asset Management Client Solutions, International, Cash Margin Lending and Schwab Center for Financial Research, and Schwab's affiliate advisors, Windhaven ® Investment Management, Inc. and ThomasPartners ®, Inc.
Before that, Jim led Schwab's Institutional Services business, which included Advisor Services and Schwab's Corporate and Retirement Plan Services units. Jim also managed Schwab's investment-only sales and mutual fund clearing businesses. A 30-year veteran of the financial services industry with extensive experience in the business to business model, Jim began his career in the retirement plan servicing industry in 1984 as one of the initial employees of The Hampton Company, which became a wholly owned subsidiary of The Charles Schwab Corporation in 1995. Mr. McCool has served as Executive Vice President of Schwab Corporate and Retirement Services.
Jim has been active in government affairs on issues of regulatory reform affecting defined contribution plans and has provided expert testimony on various issues involving the retirement plan industry. He is a frequent speaker before various industry groups as well as professional organizations in the investment, legal and actuarial professions. Jim was congressionally appointed to the Department of Labor ERISA Advisory Council in 2005 and served as chair in 2007.
Jim earned his Bachelor of Science degree in Business Administration from the University of Akron and holds multiple securities licenses. Jim lends his experience and time on the following boards and councils: President's Advisory Council – University of Akron, Akron, OH; Board of Directors – LIMRA-LOMA Secure Retirement Institute and member of the Board's Executive Committee, Windsor, CT; President's Leadership Council – The Asia Foundation, San Francisco, CA and Board member of the Charles Schwab Bank.