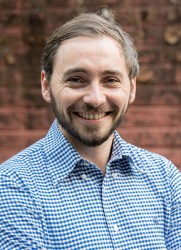 Manager, Urban Program, Myanmar
James Owen is program manager for The Asia Foundation's Urban program in Myanmar. This holistic program works with diverse urban government actors, think tanks and community groups to help make urbanization work for a broad base of residents. As economist and team lead for municipal reform, James established a dynamic team that has piloted and scaled a range of innovative implementation approaches to improve the way municipal governments fund, plan and implement their mandates. This has included the piloting and scaling of the City Life Survey, a public perception survey capturing urban well-being across Myanmar's cities, and phone and tablet-based applications to improve revenue collection and citizen engagement in over 12 cities of five states and regions.
Before joining the Foundation, James worked as an economist for the United Kingdom government for seven years. From 2015 to 2017 he served as a Myanmar based DFID country economist helping to shape the office's strategic vision and overseeing implementation of programs on Public Financial Management and engagement with country's political elites. Responsible for improving value for money of programming in this uncertain and dynamic context he helped to incorporate political economy analysis and adaptive programming into the design of DFID Burma programs.
Between 2013 and 2015 James supported the analytical work of the DFID Chief Economist's Office and Quality Assurance Unit with work ranging from research on behavioral economics, evidence assessments of project business cases, to leading a review of DFID's approach to infrastructure appraisal for the Secretary of State. His previous roles within the civil service involved analysis of macro-economic conditions in the aftermath of the 2008 recession, the link between staff engagement survey results and productivity, and representing the UK government at the OECD Agricultural Markets and Policies Group. His economic analysis supported reforms to UK court processes and the European Union's infamous Common Agricultural Policy.
Education: Master's degree in Economics and a bachelor's degree in Economics, Politics and International Studies from the University of Warwick in the United Kingdom.