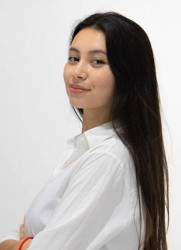 Program Officer, Cambodia
Jazmyn is a program officer with The Asia Foundation in Cambodia. Her work focuses on the Women in Tek Network (WTN), which is supported and funded by USAID and Pact. The WTN program focuses on improving the tech ecosystem for Women in Cambodia through member inclusion, mentorship and coaching, and policymaking influences. In addition, Jazmyn also worked on the Alumni Learning and Leading program, an extension of the US Embassy's sponsored English ACCESS program.
Jazmyn's work also focuses on the Digital Future Cambodia project, which is funded by USAID and is supported by the University of California at Berkeley. The Digital Futures project provides youth with access to educational training and qualifications that will enable them to gain employability skills for today in order to become the leaders of tomorrow. The Digital Future project will help build a generation of young leaders who are connected to values of entrepreneurship, transparency, innovation and open connectivity model of the internet to build a more self-reliant Cambodia that is resilient, prosperous, and less dependent on regional actors.
Prior to working with The Asia Foundation, Jazmyn was a journalist from October 2019 to June 2020 for local independent news source Thmey Thmey's English website Cambodianess.com.
Education: Jazmyn graduated from York University in Toronto, Canada with a bachelor's degree in Political Science.