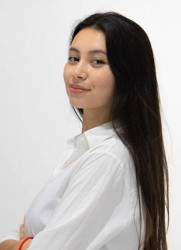 Digital Program Officer, Cambodia
Jazmyn is a program officer with The Asia Foundation in Cambodia. Her work focuses on the Women in Tek Network (WTN), which is supported and funded by USAID and Pact. The WTN program focuses on improving the tech ecosystem for Women in Cambodia through member inclusion, mentorship and coaching, and policymaking influences. In addition, Jazmyn also works on the Alumni Learning and Leading program, an extension of the US Embassy's sponsored English ACCESS program. The Alumni Learning and Leading Program aims to provide soft skills, career pathway options, and mentoring and coaching skills to selected participants. The aim is not only to improve the personal development of the individuals, but to enable them to be competitive when applying for U.S Government exchange programs, scholarships and jobs. The program is sponsored by the U.S Embassy in Phnom Penh and targets English Access graduates and students in Phnom Penh, Kampong Chhang, Kampong Speu, Kampong Thom, Battambang, Stung Treng and Siem Reap.
Prior to working with The Asia Foundation, Jazmyn was a journalist from October 2019 to June 2020 for local independent news source Thmey Thmey's English website Cambodianess.com.
Education: Jazmyn graduated from York University in Toronto, Canada with a bachelor's degree in Political Science.