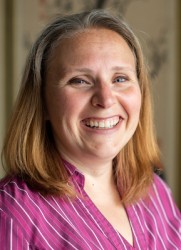 Senior Director, Asia Operations Coordination
Jeannette Vail Hanowsky is the Asia Foundation's senior director of Asia Operations Coordination, based in San Francisco. She works closely with all 18 country offices to ensure efficient and effective operations, ranging from advising on legal registration and physical leases, operational safety and security to supporting risk management practices. She plans and executes the annual Country Leadership Meeting and serves as a strategic advisor to the executive vice president and COO.
Jeannette Hanowsky brings over fifteen years of international development experience with more than a decade as a USAID Foreign Service Officer. Her diverse assignments and roles gave her direct responsibility for Mission Operations; Strategic Planning, Crisis Response, Project Management, Policy Implementation, Budget Management and Oversight, and Organizational Development. In her last position as a Senior Partnerships Advisor, she was responsible for oversight and planning of a multi-year $100 million portfolio of public-private partnerships supporting small and medium enterprise development around the world. She has designed conferences and led training for staff and private sector stakeholders on best practices for improving private sector engagement in development outcomes. Other postings with USAID include Mexico; Jamaica; Afghanistan; and Bangladesh.
Prior to USAID Jeannette Hanowsky worked as a Peace Corps municipal volunteer in Erseka, Albania, where she led local strategic planning efforts in the areas of urban governance, waste management, environment, and regional tourism development. She later served as Diversity Recruitment and National Outreach specialist for the U.S. Peace Corps based in Washington, D.C. She began her career in local governance working for county and city administrations throughout Ohio.
Education: Jeannette holds a master's degree in Public Administration (Urban Management) and a bachelor's degree in Political Science, both from The American University in Washington, D.C