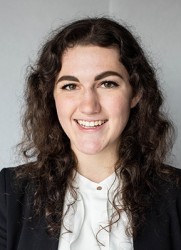 2020-2021 Luce Scholar
Jennifer Dikler will graduate in May 2020 from the Macaulay Honors College at CUNY Hunter College with bachelor's and master's degrees in Economics and a bachelor's degree in Political Science. As a child of immigrants, Jennifer has always been fascinated by the movement of people and goods throughout the world. Following her passion for trade policy, she completed an undergraduate thesis on dispute resolution in the World Trade Organization in her junior year. She was later selected to present her research at the Carnegie Council for Ethics in International Affairs. For her master's thesis, she is exploring how corporations affect dispute resolution in the WTO.
Jennifer's passion for helping people pushed her to seek out a role as an immigration paralegal at Tseitlin Law Firm, where she has worked since she entered college, performing country condition research, drafting immigration relief waivers, and preparing affidavits on behalf of clients who have come to the United States seeking a better life, just as her parents did. As a CUNY Women in Public Service Scholar, Jennifer was placed at the Office of the Manhattan Borough President Gale Brewer. Working directly under Brewer, she put together a task force of stakeholders and community leaders to handle the impact of the closure of Rikers Island for Manhattan.
Fascinated by the intersection of business and nonprofit worlds, she first interned at the Foundation of Centerbridge Partners, a hedge fund and private equity firm, where she worked with education nonprofits and created financial models measuring their social return on investment. Most recently, she served as an analyst on the not-for-profit healthcare team of Barclays Investment Bank, examining how corporations interact with nonprofit entities. Through her experiences in the private, public, and nonprofit sectors, Jennifer hopes to bring a unique lens as she continues to study trade and its long-term effects on individuals and the global economy. In her free time, Jennifer enjoys kickboxing, cooking, and gathering mushrooms with her family.