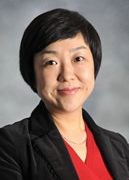 Former Country Representative, China
Ji Hongbo formerly served as the country representative for The Asia Foundation in China. Hongbo joined the Foundation's Beijing office in 2007. An experienced and skilled international development specialist, she successfully managed a range of programs with the Foundation, including disaster management, women's empowerment, charitable sector development, regional cooperation and China-U.S. relations. Most recently, she directed the re-orientation of the Foundation's activities to focus more on contributing to China's constructive global engagement.
Prior to joining The Asia Foundation, Ji Hongbo spent three years as assistant manager of the Sustainable Agriculture Development Project within the China-Canada Agriculture Development program, a CDN$20 million project funded by the Canadian International Development Agency. Previously, she was a consultant to the World Bank on poverty reduction and rural development projects in China. She has also provided consultancy services to a number of Chinese and international corporations and governmental agencies.
Additionally, Hongbo has five years of diplomatic experience with China's Ministry of Foreign Affairs. Her service included an assignment at the Permanent Mission of China to the United Nations in New York and as an interpreter in the Ministry's prestigious Translation and Interpretation Department.
Education: Ji Hongbo holds a bachelor's degree in English Language and Literature from Beijing Foreign Studies University as well as a master's degree in International Relations with a specialization in Development Studies from Yale University where she was a Henry H.L. Fan Fellow. In addition, she received a Simultaneous Conference Interpretation Certificate from the Commission of the European Union. She holds a doctoral degree in Administrative Law from China University of Political Science and Law.