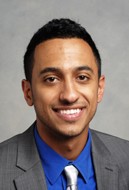 2014-2015 Luce Scholar
Center for Community Development Studies Yunnan Academy of Social Sciences Kunming, CHINA
Joël Hage is a senior at the University of North Carolina at Chapel Hill (UNC), where he majors in global studies and minors in the Arabic language. A Morehead-Cain Scholar and a member of Phi Beta Kappa, Joël has conducted ethnographic research across the Mediterranean interned with a community development organization in South Africa and a global impact-investing firm in Washington, D.C. Committed to a community-based approach to international development, Joël has had opportunities to immerse himself in rural and urban communities in Guatemala, Lebanon, Italy, Mexico, and South Africa.
In addition to co-authoring a textbook chapter comparing immigration policy in the U.S. and Europe, Joël is currently writing an honors thesis focusing on public opinion surrounding electoral reform in multi-confessional Lebanon. Back at UNC, as a member of the executive board of the Campus Y—the university's center for social justice—Joël has worked closely with passionate students and community organizations on issues ranging from immigration inequality, access to education, and youth empowerment. Also at UNC, Joël has organized workshops and orientations on global engagement, founded an organization to provide scholarships for South African children of color, and is currently teaching a seminar course on Lebanon. Joël hopes to assist marginalized communities both domestically and internationally through a career at the crossroads of urban planning and international development.
The 2014-2015 Luce Scholar placement for Joel Hage is at the Center for Community Development Studies at the Yunnan Academy of Social Sciences, in Kunming, the capital and largest city in Yunnan Province, Southwest China. Yunnan Academy of Social Sciences (YASS) was founded in 1980, on the basis of the former Yunnan Provincial Institute of Historical Studies. Established in 1999, the Center for Community Development Studies bridges the community and government, and has achieved great success on studies of natural resource management, safety of community living and democracy building in rural areas. The Center for Community Development Studies is a consultant center for international organizations including the World Bank, the UN Food and Agriculture Organization, and UN Development Program.