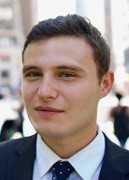 2017-2018 Luce Scholar
College of Law, National Taiwan University
Josh Feinzig will be placed at the College of Law at National Taiwan University, where he will have opportunity to work under the direction of Professor Wen-Chen Chang, who focuses her teaching and research on comparative constitutions, international human rights, international environmental law, administrative laws, and law and society.
Originally from South Florida, Josh Feinzig studied Ethics, Politics & Economics at Yale University, where he graduated summa cum laude and Phi Beta Kappa, and won the University's Roosevelt L. Thompson Prize for his commitment to public service. He is now a Gates Cambridge Scholar at the University of Cambridge, where he is studying for a master's degree in Criminology. Josh became increasingly aware of the need for criminal justice reform upon arriving in New Haven. After working with the police department and city government on various criminal justice initiatives, Josh co-founded Project Youth Court, an organization that takes trained high-school volunteers into federal courtrooms to serve as the lawyers and jurors in juvenile misdemeanor offense trials. During one summer, Josh conducted criminal justice policy research at the White House Council of Economic Advisors. He has also done research for the Connecticut Governor's Youth and Urban Violence Commission, and served as an appointed city commissioner on the New Haven Peace Commission, assisting in the application of restorative justice paradigms to policing oversight and youth crime.
As a Yale Law School Arthur Liman Public Interest Fellow, Feinzig worked as an investigator for the New Orleans Public Defenders as well as for a public interest law firm in St. Louis, where he independently researched the municipal court and jail systems. The results of his study on discriminatory and "debtors' prison" practices were written up in the Newsweek and have played a role in ongoing class-action lawsuits. Through these experiences, Josh learned of residents' deep-seated sense of estrangement from the criminal justice and political process, confirming that policy responses must foster inclusiveness in the criminal justice system to renew trust in government-at-large. Josh looks to attend law school, and ultimately guide the long-term reformation of the world's criminal justice and prison systems through legal scholarship and a direct influence in policymaking. He is an avid hiker and rock climber, and enjoys playing bluegrass music as a bass player and mandolinist.