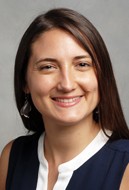 2014-2015 Luce Scholar
Institute of Environmental and Marine Sciences Silliman University Dumaguete City, PHILIPPINES
Katie Schuler works at the intersection of art, entrepreneurship, community development and stewardship of the natural world. As a photographer and videographer, Katie has traveled to over fifteen countries across six continents documenting wildlife and their habitats. As an artist and producer, she has led outreach efforts to vulnerable communities and undereducated youth, both at home and abroad.
Katie's clients rank among the most recognizable in environmental education including National Geographic, The Smithsonian Institute, Conservation International, Woods Hole Oceanographic and PBS. Katie is a graduate of the Corcoran College of Art and Design, and a recipient of the prestigious Koenig Trust Scholarship. Katie embraces a collaborative, holistic approach to solving problems of sustainability and environmental awareness, and believes that visual storytelling can be a transformative experience that changes hearts and minds for the better.
Katie currently resides in Washington, DC and is a proud native of Palm Harbor, Florida.
The 2014-2015 Luce Scholar placement for Katie Schuler is at Silliman University's Institute of Environmental and Marine Sciences, where she will work to develop the Institute's marine intrepretaive center and building outreach activities with local schools. Silliman University is a private research university in Dumaguete City, Negros Oriental, Philippines. Founded by Presbyterian missionaries in 1901, Silliman is the oldest American-established university in the Philippines and the first American university in Asia. The Institute of Environmental & Marine Sciences at Silliman University provides pioneering research in community-based biodiversity conservation, coastal resource management, and marine protected areas.