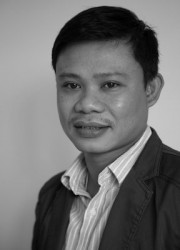 Senior Program Officer, Peace and Transitions, Myanmar
Kyaw Myo Oo currently serves as senior program officer for The Asia Foundation's peace and transition program in Myanmar. He has worked at the Myanmar office since January 2016, and most recently has contributed to the development and translation of a training curriculum on Federalism in Myanmar: Political, Administrative and Fiscal Aspects (2018). He is also a co-author of the Foundation's flagship publication on armed conflict in Myanmar, exploring the interlinkages between subnational conflict, development and international assistance, The Contested Areas of Myanmar (2017).
Kyaw Myo Oo has over nine years of experience in program implementation and management, and as a trainer and facilitator for INGOs, local NGOs, and CBOs. He is experienced in organizational management, program management, program monitoring and evaluation, social research design, and other fields related to community development and civic engagement. He worked as a relief worker for 7 years from 2004 to 2011. Under the relief and development program, he traveled to conflict affected areas to provide emergency reliefs and development assistance to internally displaced people and return refugees.
Prior to starting his professional career, he undertook an educational internship at the Mekong Institute at Khon Kaen University, Thailand from September to November 2015.
Education: Master's degree in Public Affairs (MPAf in Strategic Planning and Public Policy) from University of the Philippines Los Baños, Philippines. Bachelor's degree in Economics from Yangon Institute of Economics, Myanmar. Certificate in Civil Engineering from the Government Technological College of Mawlamyine, Myanmar.