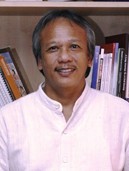 Program Director, Environmental Governance, Indonesia
Lili Hasanuddin has more than twenty years experience working with civil society organizations on issues of good governance, democratic elections, decentralization and environmental protection. In his decade of work with Indonesia's Civil Society Alliance for Democracy (Yappika), seven of which he spent as director, Hasanuddin strengthened the alliance to become Indonesia's largest civil society initiative focused specifically on strengthening the capacity and networks of Indonesian NGOs to promote democracy, good governance, human rights and socio-economic transformation.
With Yappika, Lili Hasanuddin was involved in promoting improvements to the election system in Indonesia, having organized election observation in Aceh and Papua provinces (1999) as well as having been involved in reviews of the regulatory framework governing elections. He also served as an international observer for Sri Lanka's 2005 presidential elections. Prior to joining Yappika, Hasanuddin spent eight years with WALHI as program coordinator, where his focus was on research, advocacy and public outreach around issues of forestry and biodiversity. With strong skills in program management, he is experienced in designing, planning, monitoring and evaluation of capacity building programs for CSOs.
An experienced development activist with hands-on organizational experience, Hasanuddin has worked with numerous donors and national NGOs to lead strategic planning, program design, and evaluation exercises. He has a broad range of experience as a facilitator of workshops, training and multi-stakeholder meetings, as well as having conducted field work, research and policy analysis on a range of democracy, human rights and environmental issues.
Education: Bachelor's degree in Forest Management, Bogor Agriculture University (IPB), Bogor, West Java, Indonesia.