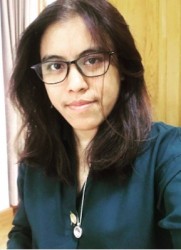 Senior Finance Officer, Myanmar
Lin Lin Nge is a senior finance officer at The Asia Foundation's Myanmar office. Since joining the Foundation in June 2017, Lin Lin has worked with the Finance and Grants team. She is responsible for the implementation of financial management system for The Asia Foundation's office in Myanmar. Her role is also to oversee internal financial system, payment processing, and donor reporting and budget proposals.
Lin Lin has over 10 years of finance and grants management experience with international NGOs and Local NGOs. She has also worked in the business sector.
Education: Bachelor's degree in Economics from East Yangon University. She has a diploma in International Financial Reporting Standard and L.C.C.I (Diploma in Accounting).