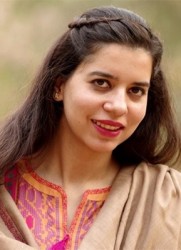 Senior Program Officer, Books for Asia, Pakistan
Mahwish Javed Khan currently works as senior program officer for the Books for Asia program. She joined the Foundation Pakistan office in October 2018. Mahwish previously worked with other organizations in different capacities: Alif Ailaan, ISPR; Internews; Express Media Group; Bol News Network, and many more. She also has experience delivering training to 100 election observers for the National Elections in 2018.
Education: Mahwish received her bachelor's degree in Business Administration (Honors) and earned a Gold Medal in her master's degree in Media Production from Ripah International University Islamabad.