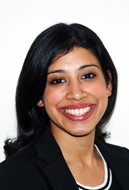 Former Senior Program Officer, India
Mandakini Devasher Surie left the Foundation in May 2018.
Mandakini Surie was formerly a senior program officer in The Asia Foundation's country office in New Delhi, India. She worked on transparency and accountability issues After joining the Foundation in February 2011, she developed and managed grants in each of the India office's focus areas including: transboundary water governance, intra-regional trade facilitation, combating trafficking in persons, women's security and open/accountable governance. Mandakini also managed the Luce Scholars program in India. Prior to joining the Foundation, Mandakini served as a research analyst with the Centre for Policy Research, India's premier policy think tank based in New Delhi, where she led advocacy and research on the right to information, managed a case studies research project on accountability mechanisms in India's flagship social welfare schemes and anchored communication and outreach activities.
She worked with the United Nations Development Program (UNDP) in New Delhi providing program and management support to UNDP and Government of India projects on the Mahatma Gandhi National Rural Employment Guarantee Scheme and with the Commonwealth Human Rights Initiative (CHRI), an international human rights organization based in New Delhi. At CHRI, her work involved promoting and advocating for the right to information across Commonwealth countries with a special focus on South Asia. In India, she has been closely involved in advocating with the government at the policy level and civil society organizations at the grassroots to enact and implement the right to information effectively.
Education: Bachelor's degree in History, Lady Shri Ram College for Women, India; master's degree in Modern Indian History from Jawaharlal Nehru University, India; master's degree in Development Studies from the London School of Economics and Political Science, UK.
Twitter:
mdevasher