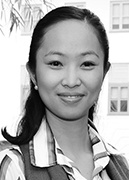 Trustee of The Asia Foundation
2014 Asia Foundation Development Fellow
Marcia Czarina Corazon del Mundo Medina-Guce joined The Asia Foundation Board of Trustees in 2017. She is currently Political Governance Fellow of the Institute for Leadership, Empowerment, and Democracy (iLEAD), a Manila-based think tank consultancy and resource center that focuses on strategic policy work to strengthen democratic institutions. She specializes on political governance, subnational governance, open governments, and transparency, accountability, and participation issues.
For ten years, she has been a faculty member in the Ateneo de Manila University under the Development Studies Program. She has published articles in national and regional academic journals, co-wrote and co-edited several books, and conducts research on social development, leadership, program development and assessment, monitoring, evaluation and learning for different local and international development organizations. Czarina finished her bachelor's degree in Social Sciences from Ateneo de Manila University, graduating Magna Cum Laude, and completed her master's degree in Sociology from the University of the Philippines–Diliman.
Her professional history includes work with the Philippine Center for Investigative Journalism, Union of Local Authorities of the Philippines, Asian Institute of Management–Center for Bridging Leadership, Philippine Council for Islam and Democracy, and ABS-CBN's former "The Correspondents" documentary program.