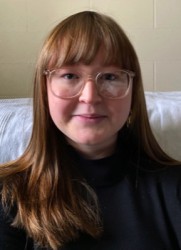 2021-2022 Luce Scholar
An aspiring curator and art historian from San Antonio, Texas, Meg Burns is devoted to culturally sustaining curation and community-centered arts education. She expects to graduate from the University of Notre Dame in May 2021 with a bachelor's in Art History and a minor in the Glynn Family Honors Program. With a grant from the Glynn Family, she traveled to Ireland to conduct research on American installation artist Mark Dion, prior to her junior-year study abroad at University College Dublin. Her current honors thesis addresses contemporary artist Theaster Gates, and how he interrupts, creates, and manipulates systems of capital in an effort to revitalize his community on the South Side of Chicago.
At Notre Dame's Snite Museum of Art, Meg helps build exhibitions and completes research for upcoming publications as a curatorial research assistant for Photography Curator Dr. David Acton. In the summer of 2020, Meg served as Havner Curatorial Intern for the Crystal Bridges Museum of American Art, where she assembled bibliographies, wrote interpretive text, and crafted exhibition proposals for the museum's collection of modern art. She has also worked as a curatorial intern for the Terra Foundation for American Art, where she first became interested in the ability of international partnerships to enrich and diversify art-world narratives.
On campus, Meg serves as the president of the Art History Club; an event planner on the Snite Student Programming Committee; a passionate representative for Notre Dame Votes; and a resident assistant in her dorm. Her thesis work and outreach with ND Votes have driven her interest in American politics and continued postgraduate study of the global intersections of politics and art. In her spare time, Meg enjoys exploring new cities, reading short fiction, and spending time with her friends and family.