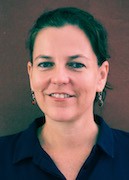 Deputy Country Representative, Timor-Leste
Marguerite Bennett is deputy country representative for The Asia Foundation in Timor-Leste, as of March 2018. She brings over 19 years of international development and private sector consulting, research, operations, and program management experience to the Foundation's program in Timor-Leste, including overseeing programs funded by public and private donors.
Marguerite has spent significant time in Australia, Asia, the UK, and the Pacific with a range of organizations such as Oxfam, KPMG, universities, Palladium, AECOM, Australian Volunteers International, and Indigenous Land Councils. Most recently, she worked in Timor as a short-term adviser in water research, grants, and procurement before joining The Asia Foundation as deputy country representative.
Marguerite's qualifications are in finance, law, and water and natural resource management. She has a wide range of project experience including: water governance and water/food/energy nexus in the Mekong; aid effectiveness research in Papua New Guinea; leading operations management and State-Owned Enterprise financial strengthening in the Solomon Islands; working in HIV/AIDS in London; internal audits of infrastructure projects; oversight on water and electric, small-medium enterprise market development in Cambodia; and sea turtle research in Northern Australia.
Education: Certified Practising Accountant, master's degree in Integrated Water Management (International Development & WASH) from the International WaterCentre/UQ (ongoing), as well as a master's degree in Commerce (Finance/Law) from Deakin University, bachelor's degree in Environmental Science (Planning, Soils & Geomorphology, Ecology) from Griffith University.
Email:
marguerite.bennett@asiafoundation.org