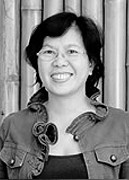 Former Deputy Country Representative, Philippines
Maria Isabel T. Buenaobra left The Asia Foundation in April 2017.
She was formerly deputy country representative in the Philippines office of The Asia Foundation, a leading international development nonprofit committed to improving lives across developing Asia. Buenaobra has worked at The Asia Foundation for over twenty years, managing various programs, such as the women's empowerment, electoral reform, anti-corruption, the Philippines Australia Community Assistance Program (PACAP), a small grants scheme which is currently managed by The Asia Foundation. Currently, she is the Partnership Leader for the Foundation's Philippines Partnership Agreement with Australia's Department of Foreign Affairs and Trade (DFAT).
Prior to joining the Foundation, Buenaobra translated publications from English to Filipino and taught at the Ateneo de Manila University, lecturing on Asian, European and Japanese history and culture and contemporary issues, was Information Officer at the International Committee of the Red Cross, and editor at Solidarity Foundation.
She co-authored The Right to Vote: Filipinos with Disabilities in the 2013 Elections (2014), and is a noted commentator on development issues and current affairs at the Foundation's In Asia blog.
Education: Master's degree in Asian Studies, University of the Philippines; bachelor's degree in Education, Assumption College.