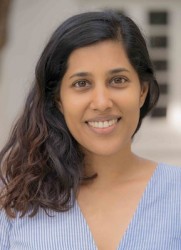 Manager, Program Evaluation and Support Unit, Myanmar
Marly Augustine is a research and learning enthusiast with nine years of experience in field research, M&E, and awards management in the humanitarian and development sectors. She has held several positions at various non-profit and international organizations, including the United Nations Relief and Works Agency for Palestine Refugees (UNRWA), GOAL, Save the Children International, Norwegian Refugee Council and Danish Refugee Council. In her previous roles, she set up and managed M&E teams and systems in Bangladesh, Iraq, and Syria; led situational assessments and program evaluations in Lebanon and India; and oversaw project design and reporting for humanitarian and relief programming in Jordan, Syria, and Turkey.
Education: Marly holds a master's degree in Migration Studies from the University of Oxford and a bachelor's degree in Government from Georgetown University.