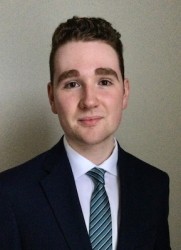 2021-2022 Luce Scholar
Matthew Shorten is a composer, tenor, conductor, and arts educator. Born in Wollongong, Australia, he is an interdisciplinary musician and a passionate advocate of Baroque music, contemporary art song, and global choral repertoires. He has composed for diverse instrumentations, ranging from pieces rooted in historical performance practice to large-scale works combining choral and orchestral forces. As a cross-cultural composer, Matthew is invested in the proliferation of Australian art song, as well as the creation of contemporary works for Japanese instruments, often coalescing their timbral possibilities with Western Classical instruments. He seeks to unify these rich traditions, engaging with audiences around the globe. With an eye for unconventional programming and a love of transformative musical experiences, Matthew led and curated both the "Blair Salon" and "Living Sounds" concert series at Vanderbilt University. He also co-developed the Adopt-A-Choir Initiative with the Vanderbilt ACDA Chapter, an organization he co-founded, providing opportunities for Nashville choir students to meet and perform alongside college-level musicians.
Matthew's works have been commissioned by artists and ensembles internationally, including the VOCES8 Foundation, Kyo-Shin-An Arts, chatterbird, the New Haven Symphony, the Cortona Sessions for New Music, the Royal Academy of Music in London, the Vanderbilt Symphony, and Wintergreen Music. Recent highlights include his choral work "White Fog," debuted and recorded by the VOCES8 Scholars at Minnesota Public Radio, and his orchestral piece "Floating Isles," which won the 2018 Vanderbilt Symphony Competition and the 2019 Tennessee Valley Music Festival Competition.
As an emerging tenor, Matthew is a VOCES8 Scholar, a staff singer at the Cathedral Church of the Advent in Birmingham, and a member of Chorosynthesis, a Seattle-based ensemble. He also received the General Director's Award at the James Toland Vocal Arts Competition in 2019. He was one of two artists selected globally to join the Victoria Bach Festival as an Emerging Artist for 2020 & 2021, and was invited to attend the Oregon Bach Festival Composers Symposium as a Composer-Performer Fellow in 2021. Matthew graduated from Vanderbilt as the 2020 Founder's Medalist, the university's highest student honor, and received his Bachelor of Music in Composition, Voice, and Violin summa cum laude from the Blair School of Music.