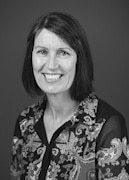 Director, Books for Asia
Melody Zavala is the director of Books for Asia, a program of The Asia Foundation that empowers underserved populations with information. Through donations of brand-new books and digital content, Books for Asia helps infuse young students with an early love of reading essential for literacy; builds knowledge in the business, legal, and science professions; sharpens vocational and research abilities; and enhances language skills to compete in the global economy. Under Melody's leadership, Books for Asia is piloting a children's digital library in Asia while continuing to donate about 800,000 print books annually, reaching an estimated 9 million people in 20 countries.
Before joining The Asia Foundation in 1999, Melody was country director in Russia for Catholic Relief Services (CRS). Melody opened CRS' office in Vladivostok where she led a team to provide emergency humanitarian aid to 1.5 million Russian citizens in the Russian Far East and managed a program valued at $54 million. Early in her career, she was based in CRS' liaison office in Washington, D.C., and in Kolkata, India, where as a project manager, she collaborated with local partners on emergency relief and long-term development projects in 12 northeastern states.
Education: Melody earned her master's degree in International Affairs from Columbia University and bachelor's degree in Political Science from the University of California at Los Angeles.
Phone:
(510) 667-6475
Email:
melody.zavala@asiafoundation.org
Books for Asia
2490 Verna Court
San Leandro, CA 94577