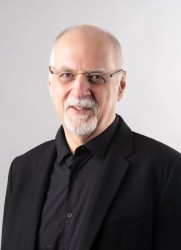 Country Representative, Vietnam
Dr. Michael R. DiGregorio is the Asia Foundation's country representative in Vietnam. He has directed the Foundation's work in Vietnam since 2014, during which time he has led new projects and programs to address business related disaster risk, city level climate resilience, green finance, blockchain traceability for export agriculture, digital applications for the "gig" economy, trade facilitation, energy planning, and digital finance for rural and remote farmers and small enterprise owners. Prior to joining the Asia Foundation, he served as a researcher within the Rockefeller Foundation's Asian Cities Climate Change Resilient Network. From 2002-2009, Michael DiGregorio was responsible for the Ford Foundation's education, media, arts and culture program in Vietnam. Hanoi's "ceramic wall" along the dike road was initiated and nurtured with a Ford Foundation grant.
Education: Michael DiGregorio earned a doctoral degree in Urban Planning in 2001 with a dissertation on the cultural economy of industrializing craft villages in the Red River Delta. He also holds a master's degree in Southeast Asian Studies with a Major in Development Economics from Ohio University, a master's degree in Urban and Regional Planning from the University of Hawaii, and a bachelor's degree in Theology from Central Bible College. He has lived in Vietnam for 28 years.