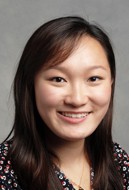 2014-2015 Luce Scholar
Arbitration Council Foundation Phnom Penh, CAMBODIA
Michelle Huang graduated from Cornell University in May of 2014 with a Bachelor of Science in Industrial and Labor Relations and a minor in Law and Society. She began her undergraduate education at Wellesley College, where she discovered her interest in economics, law and policy. Outside of class, she found a mouthpiece for her interest at the college radio station, WZLY, where she was appointed News Director in her first year.
Inspired by her experiences at a women's college, Michelle worked at the Global Network of Women Peacebuilders, where she analyzed progress and drafted grants for programs supporting UN Security Council Resolutions on women and peace and security. After transferring to Cornell, these interests culminated in an interdisciplinary study of labor and employment law. Her junior year, she worked at the New York City Commission on Human Rights where she aided in the successful settlement of a multi-complainant race discrimination suit by conducting proof in pattern and practice statistical analysis. Her senior year, she worked at Proskauer Rose, where she helped develop and organize an online database for the firm's archival case reference material. She also assisted in a pro-bono case filling a U-Visa for a noncitizen crime victim.
Academically, Michelle has been placed on the ILR School Dean's List every semester and expected to graduate with honors, pending completion of her thesis research on local adaptations to globalization in the New York City Garment District. Michelle's interest in the intersection of economics, law and policy has inspired her to pursue competition in both collegiate policy debate and British Parliamentary debate for the Cornell Forensics Society, where she currently serves as the Vice President of External Relations. Notably, she is the first member of the society to achieve competitive success in both policy and British Parliamentary debate.
Beyond competition, Michelle also performs outreach at the Finger Lakes Residential Center, where she spends time teaching juvenile delinquents about debate and public speaking. In her free time, Michelle enjoys blogging about her amateur forays into cooking and maintaining her black belt in Tae Kwon Do.
With the Arbitration Council Foundation, 2014-2015 Luce Scholar Michelle Huang will support the work of the training and communications team. The Arbitration Council Foundation is a registered not-for-profit foundation established in 2004 in Phnom Penh, Cambodia with the assistance of the ILO, and in consultation with the Cambodian Ministry of Labor, employer associations, and union federations. The Arbitration Council Foundation's purpose is to support the labor dispute resolution work of the Arbitration Council, an independent quasi-judicial tribunal responsible for resolving collective labor disputes in Cambodia through mediation and arbitration.