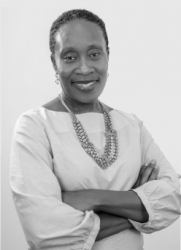 Assistant Secretary to the Board of Trustees
Special Assistant to the President
Michelle Rhodd serves as the special assistant to the president and assistant secretary to the Board of Trustees of The Asia Foundation. She is also the founder and CEO of Governance Advantage LLC, and is a seasoned executive with a proven record of directing executive action, piloting governance transformations, and promoting board relations. Adept at leading change to achieve organizational goals and serving as a valued strategic partner and trusted advisor to leaders and senior executives, she was most recently corporate secretary at the National Restaurant Association where she led Board Operations for an 80-person Board of Directors and for the organization's Foundation—with a 35-person Board of Trustees.
Prior to her work at the NRA, Michelle Rhodd served as assistant corporate secretary for the American Red Cross. She also served the assistant secretary for USEC Inc. at its Bethesda, Maryland headquarters, where she planned and coordinated Annual Meetings of Shareholders, meetings of the Board of Directors and its committees, oversaw compliance with SEC and NYSE requirements and other governance mandates.
Education: Michelle Rhodd holds a master's degree in Business Administration from Johns Hopkins University in Washington, D.C., a master's degree in International Business Law from the University of Manchester in England and a bachelor's degree in International Relations from Wheaton College in Massachusetts.