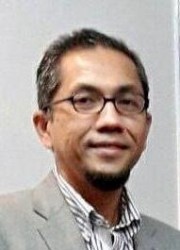 Former Director, Finance, Malaysia
Mohamad Zaidi Mohamad Zain left the Foundation in 2022.

Mohamad Zaidi Mohamad Zain serves as director of Finance for The Asia Foundation in Malaysia. His primary responsibility is ensuring accountable financial management functions for the Malaysia office, including the development, implementation, and governance of required financial management policies and procedures. Other duties include monitoring continuous compliance of expenditures within the annual budget, oversight on donor-funded budgets, and financial management and budget control related to program and office operations.
He manages the financial reporting submission to headquarters and donors and provides necessary guidance to Foundation staff regarding financial management and organization sub-awards policies and procedures. He is also responsible for implementing and monitoring grants administration for the Malaysia office. In doing so, he ensures a system based on grants administration process matrix, including development of system on partner organizations assessment and their financial capacity assessment.
He started his career with Arthur Andersen & Co in 1990 before being attached with Arab Malaysian Merchant Bank (Corporate Finance Division). Prior to joining the Foundation in Malaysia, he was attached to Information Technology (an associate company to SingTel group) as head of finance.
Education: He holds a diploma in Accountancy from the University of Technology MARA and professional certification from MICPA (Malaysian Institute of Certified Public Accountants-PE II).