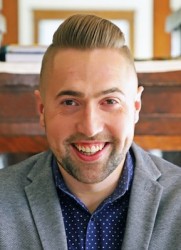 Let's Read Program Specialist
Morgan Belveal is a creative and progressive maker and program development specialist with a background in children's studies, human development, and international education. He uses his experience working with diverse communities around the world and a global, modern, interdisciplinary, and holistic mindset to work alongside children and communities to build programs, systems, and services that support and celebrate children.
He has dedicated his career to working alongside stakeholders to design and implement impact-driven programs. At the Spokane AIDS Network, he led a team of at-risk gay and bisexual men to reduce the impact of HIV/AIDS in their community. At Odyssey Youth Movement, he led a team of LGBT youth to improve the quality of their learning environments. As the vice president of the North Idaho AIDS Coalition, he led the organization in the creation and pursuit of their first long-term strategic plan. As a children's content specialist, he supported the development of television content for Galli Galli Sim Sim in India and the development of an accelerated basic education program for out of school children in rural Ethiopia built on a locally produced television program called Tibeb Girls.
Morgan currently works as the program specialist for The Asia Foundation's Let's Read initiative where he directly supports the implementation of the community and technology driven literacy program in the Asia Pacific region.
Education: Bachelor's degree in Children's Studies, Eastern Washington University & master's degree in International Development and Human Development, University of Pennsylvania.