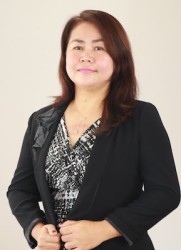 Program Manager, Environment, Cambodia 
Navy NOP is program manager for the Foundation's Environmental Program in Cambodia. Navy manages the USAID-funded Solid Waste Accountability Platform (SWAP) program and the GIZ-supported Reduce, Reuse, Recycle to Protect the Marine Environment (3RproMar) project in Cambodia. She also supports the governance program, managing the New Zealand MFAT-funded project Promoting Transparent and Accountable Management of Local Funds in Cambodia.
Before joining the Foundation, Navy has over a decade of experience managing, coordinating, and researching various projects in the field of environment and research. Most recently she was a project manager with BBC media action leading in the development of new projects, strategic networking to identify funding support, TV program production for digital platforms, and collaboration with local authorities for community screenings. She also managed and coordinated large development programs in the field of Climate Change and Natural Resource Management (Partnership for Forestry and Fisheries). Navy brings a strong advocacy background of working on Land Rights issues, Natural Resource Management, and Indigenous Peoples' Rights. With these experiences, she has gained important skills in program implementation, strategic program management, policy coordination, planning, monitoring and evaluation, staff management, budget planning, and financial management.
Education: Navy holds a master's degree in Environment with a focus on Natural Resource Management and Climate Change from the University of Melbourne, Australia.